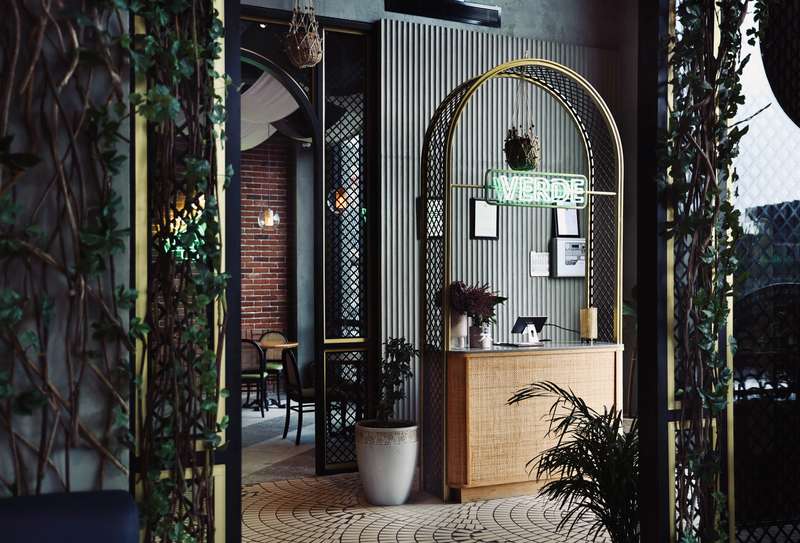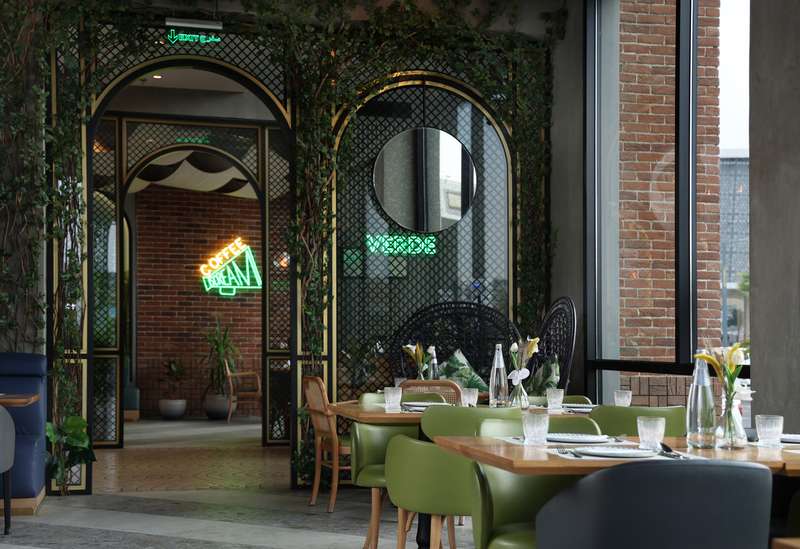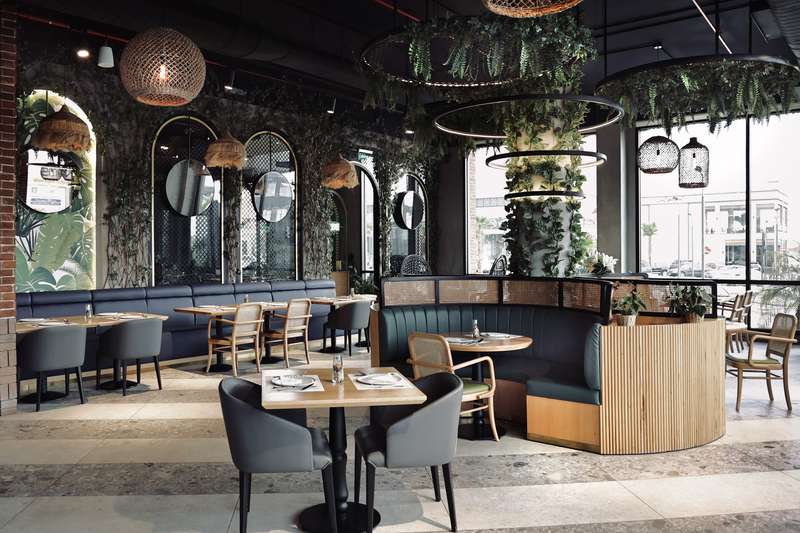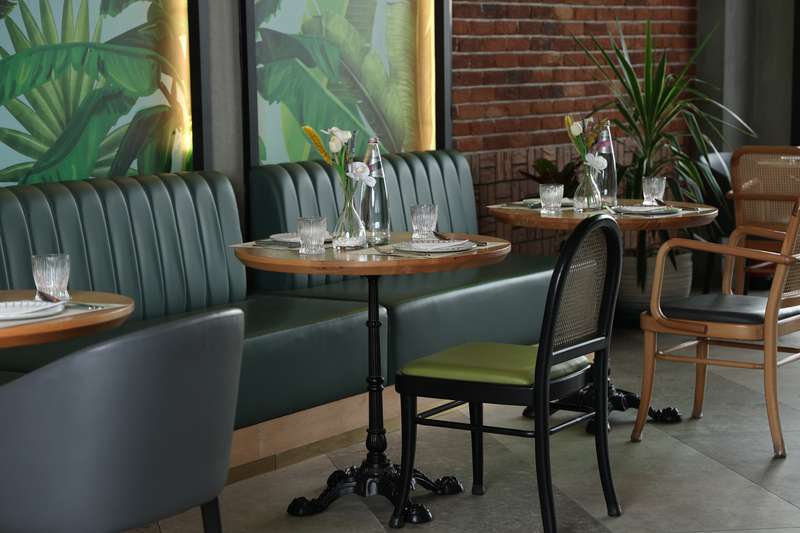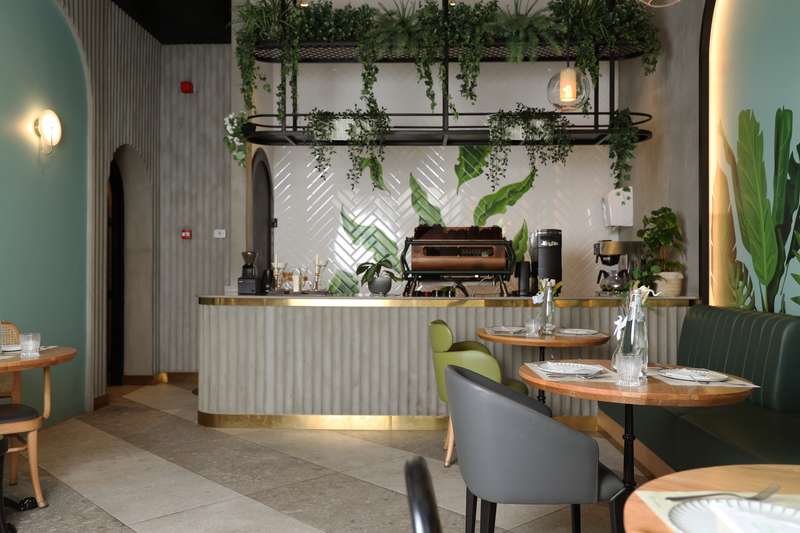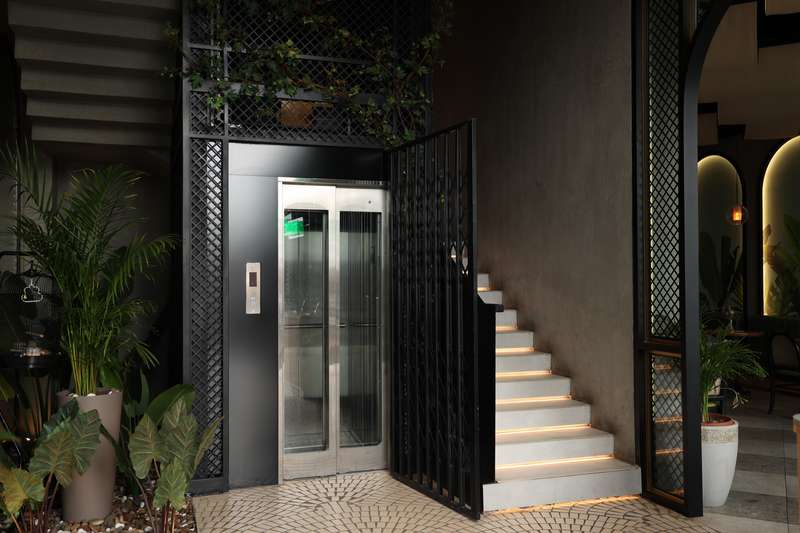 Verde restaurant is a delightful 324 sqm dining experience located in Al Ghonaim Mall, Saudi Arabia- Abha, specifically tailored for those who appreciate the beauty of nature and greeneries. A restaurant interior design in Saudi which is very cozy and eco-friendly, creating an incredibly pleasant atmosphere that allows its customers to feel right at home. Verde restaurant brings one of the most unique dining experiences available in Saudi Arabia, with its beautiful natural designs that bring the outdoors inside for a truly special experience.
The concept is based on the idea of bringing the outdoors in for a restaurant interior design in Saudi. The furniture, decor, and lighting are all carefully selected to create an inviting atmosphere that blends with nature. The warm colors and natural materials used in the interior design make it feel like you are dining in a garden or park.
This construction project made use of sustainable materials such as bricks, terrazzo, and rattan to minimize environmental harm and increase sustainability. These materials are highly regarded for their durability, strength, and ability to reduce energy consumption during production while also providing a positive impact on the environment. Moreover, they will last longer than other traditional building materials which further emphasizes their sustainability and cost-effectiveness over time.
By implementing an open ceiling concept and intertwining it with strategically placed hanging greenery, we have created an illusion of a much higher ceiling to give a warm, welcoming feeling. This particular design selection has been widely praised for its captivating visual elegance and one-of-a-kind aesthetic. The lighting selection is composed of a range of exquisite wicker and basket pendant lights that bring a special touch of artistry to the space. Not only do these pieces add to the overall ambiance, but they also provide outstandingly practical use for a restaurant interior design in Saudi.
The lift that takes you to the first floor is designed with a retro aesthetic, centered around a concrete staircase and surrounded by lush greenery. It stands as a unique hallmark, adding an extra touch of beauty and charm to your journey upwards.
Verde Restaurant, with its name derived from the Spanish word for "green", promises a truly remarkable and delightful experience to all its customers. Its unique restaurant interior design in Saudi creates an inviting, comfortable, and warm atmosphere that makes everyone feel at home. Moreover, its stylish decor is sure to captivate the attention of every guest as soon as they step through the door.