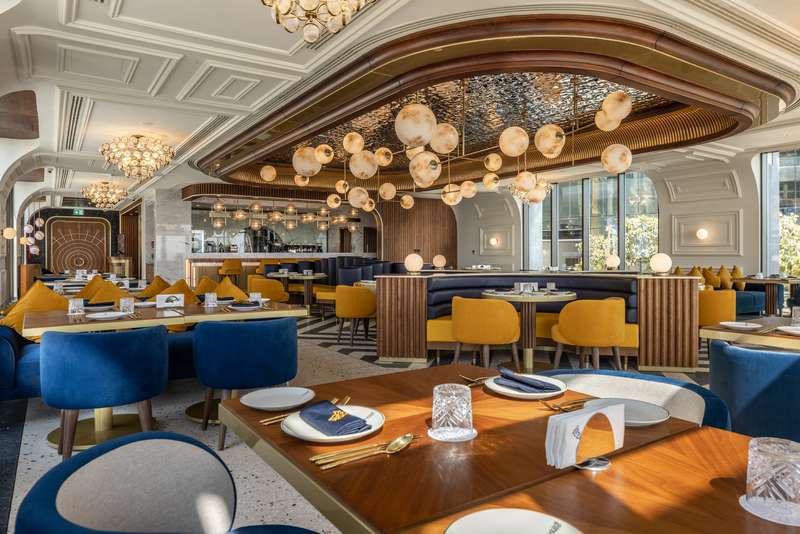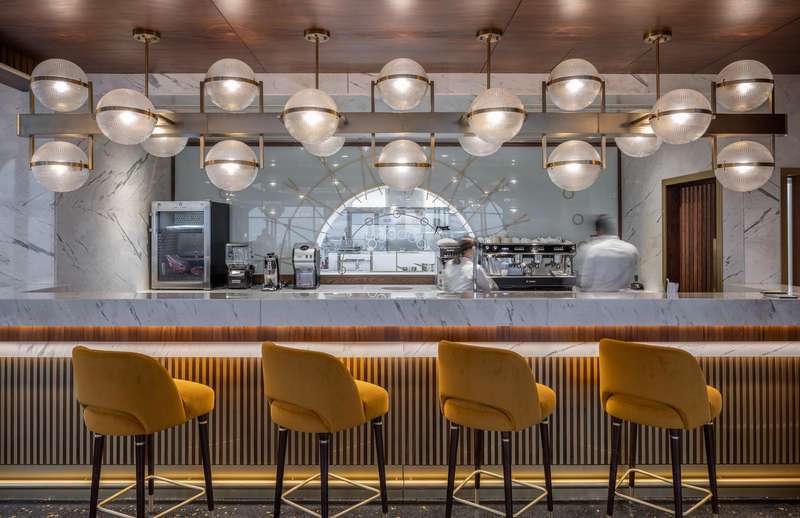 This 360 sqm Art Deco inspired Restaurant is situated at Matal Eatery Complex Al Khobar, KSA. It offers a spectacular view of a sea, a perfect place for relaxation with colleagues and family.
As you walk thru the entrance, you will be mesmerized with the Art Deco Design that represents luxury and glamour in social and technological progress. It is characterized by rich colors with symmetrical designs in exuberant shapes. Both walls and floors used bold geometric forms of Cubism with individually crafted luxury items featuring expensive materials such as marble, brass, and gold. The overall ambiance embodies modernism turned into fashion. The intention was to create a sleek and anti-traditional elegance that symbolizes wealth and sophistication.
The ceiling was inspired by Lunar and its reflection to the sea. To incorporate the concept, we used the moon texture on the globe lights and rippled steal on the ceiling that resembles the sea surface. While on the floor, we used Gold and Black/White Marble to illustrate the Lunar Day and Lunar Night.
On the furniture, we opted to use Brass and Wood as it signifies a timeless combination. Two of the trendiest materials that work both indoors and outdoors – aesthetically appealing yet very functional. Pampas grass are added as they are a great accent piece. Fluffy and visually textural, soft but architectural.
Overall, this restaurant gives you the thrill of travelling back to the classic 1920's era just like The Great Gatsby experience in the heart of Saudi Arabia.