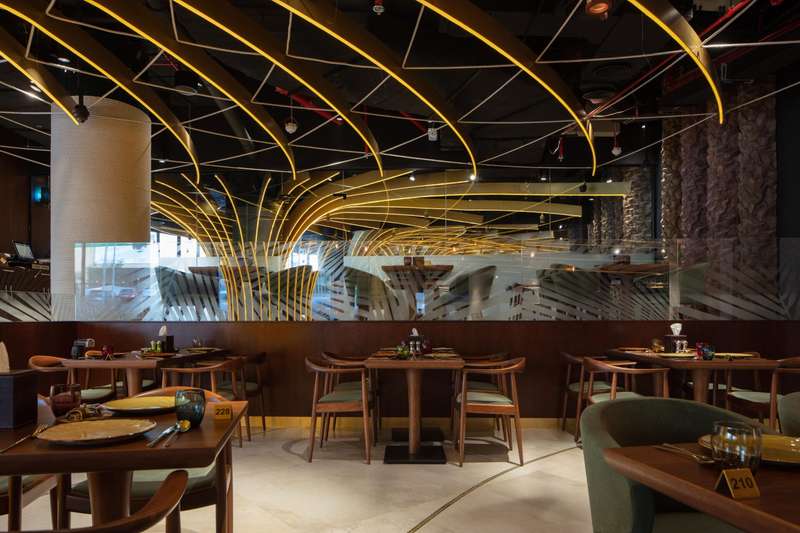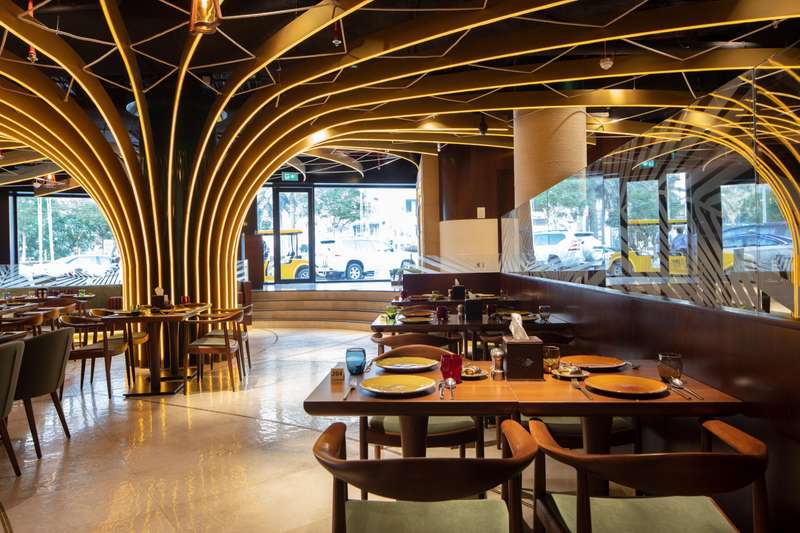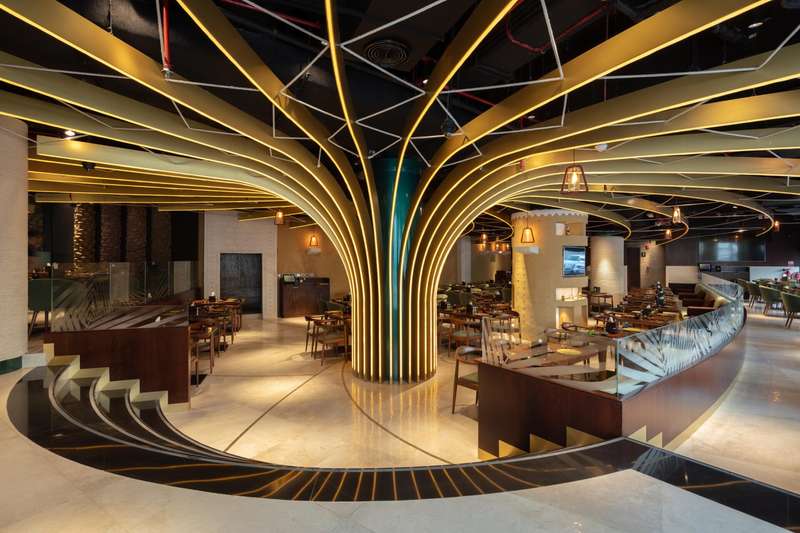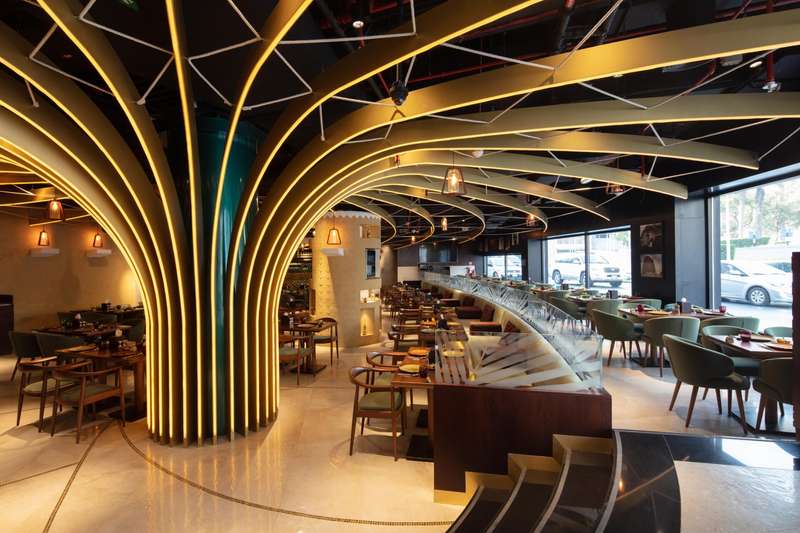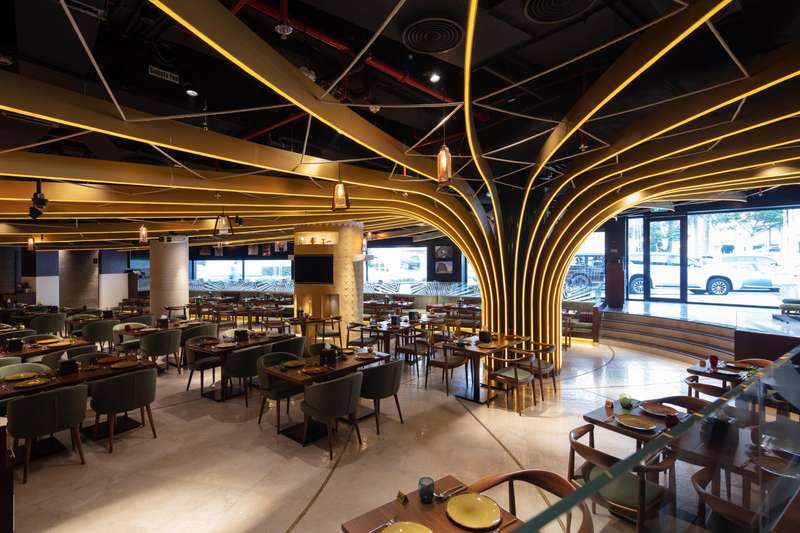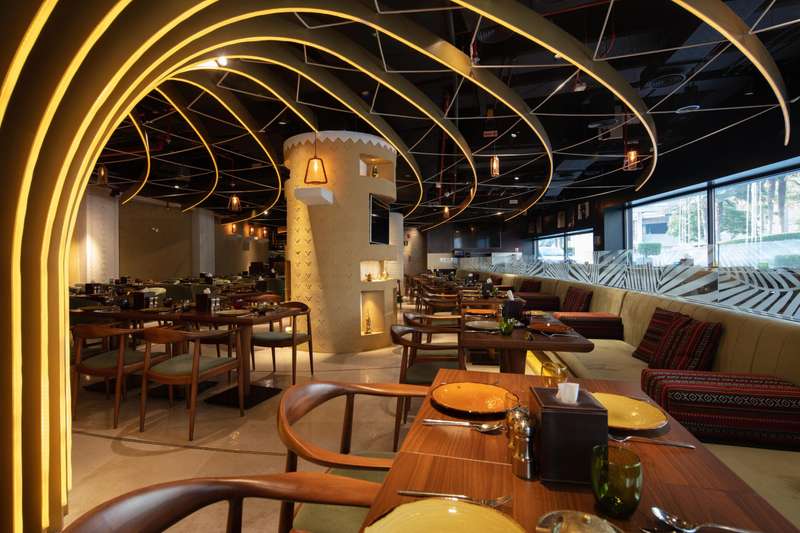 Karamna Alkhaleej is a modern restaurant interior design spanning 6,600 SQ. ft. located in Downtown Dubai Boulevard, in The Address. Designed by 4SPACE, a restaurant design company that elevates modern approach on functionality and aesthetic. The restaurant celebrates the traditional Gulf-Levantine food and culture with a contemporary twist, making it a unique and visually stunning space. The restaurant's design draws inspiration from the elements of the Arabian Gulf region, using golden illuminated stripes clustered together to form a palm tree shape – the most prominent element in the Gulf region. This design helped to draw attention away from the exposed black ceiling, creating a visual depth that makes the restaurant interior design stand out.
The design of the restaurant's main columns is inspired by palm trees, with the strips overlapping each other to create palm leaves in the ceiling. Oriental arches, a well-known architectural style in the region, add to the restaurant's atmosphere. The trunks of palm trees line one of the walls, with several colors representing the diversity of the Gulf Arab country. 4SPACE, a restaurant design company, used traditional fabric for furniture and black granite with a palm leaf pattern of copper inlays for the shop front. The walls feature big red stone slate, referencing the red stone found in Mada'in Saleh heritage area in Saudi Arabia's desert. The shisha lounge area is enclosed with a curved glass partition etched with palm pattern design and illuminated to create an interesting laser beam effect.
The restaurant's design meets the client's brief, creating a functional space up to EMAAR standards with high-quality finishes and materials, a flexible layout, and smart solutions for the back of the house. The traditional atmosphere of the restaurant is seamlessly combined with a modern setting, creating a coherent and visually stunning space that will attract visitors from all over. Karamna Alkhaleej is truly a unique dining experience that celebrates the Gulf-Levantine food and culture, making it a must-visit for those who appreciate great ambiance, intricately designed by 4SPACE – a restaurant design company.