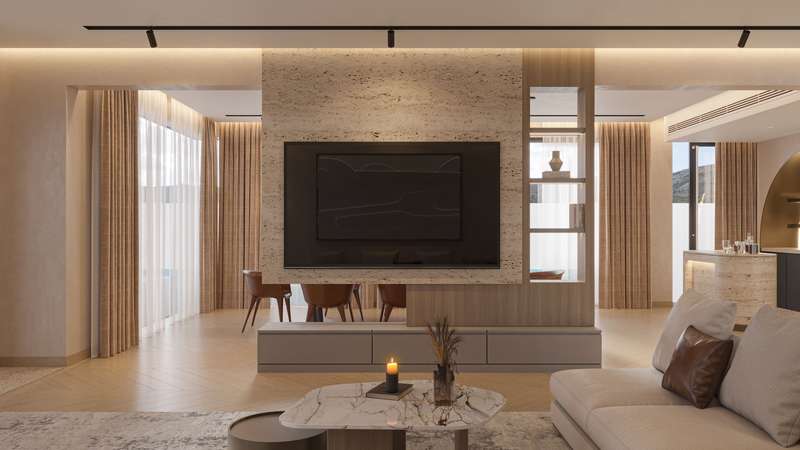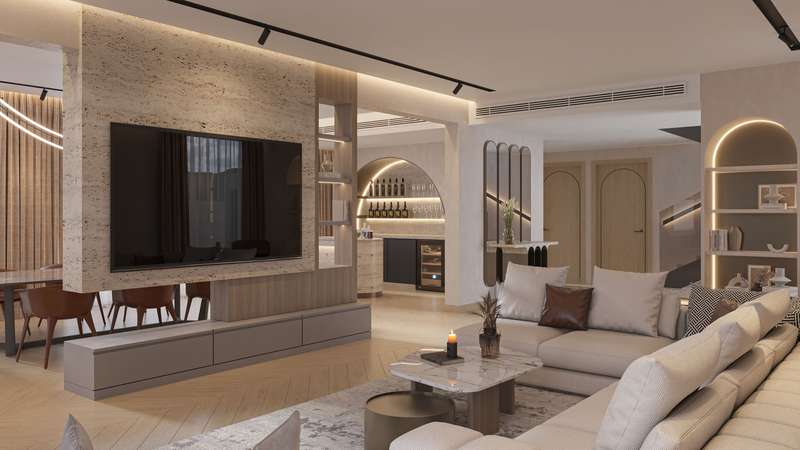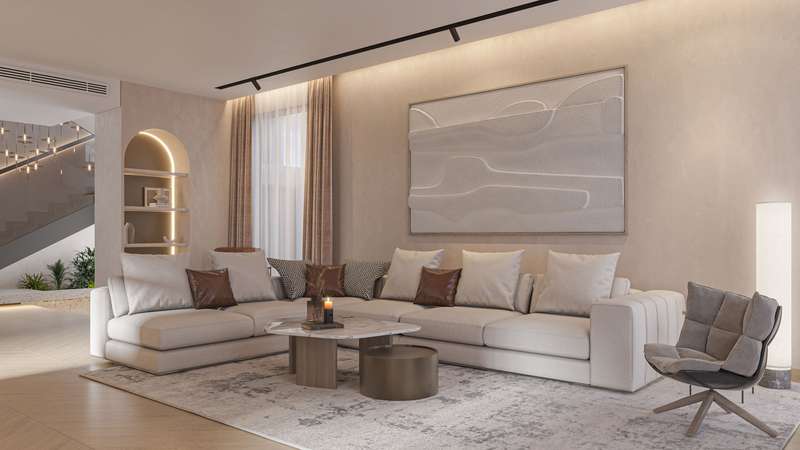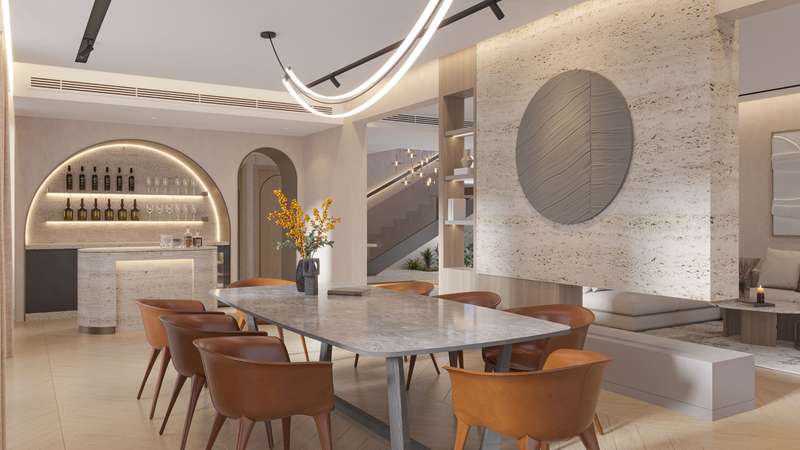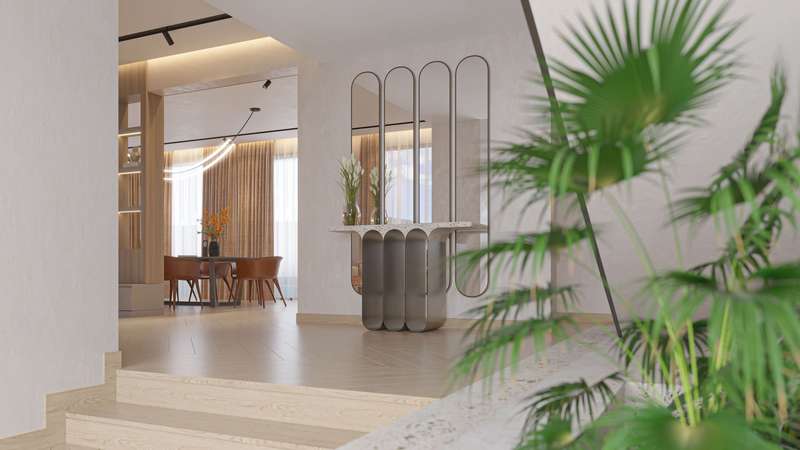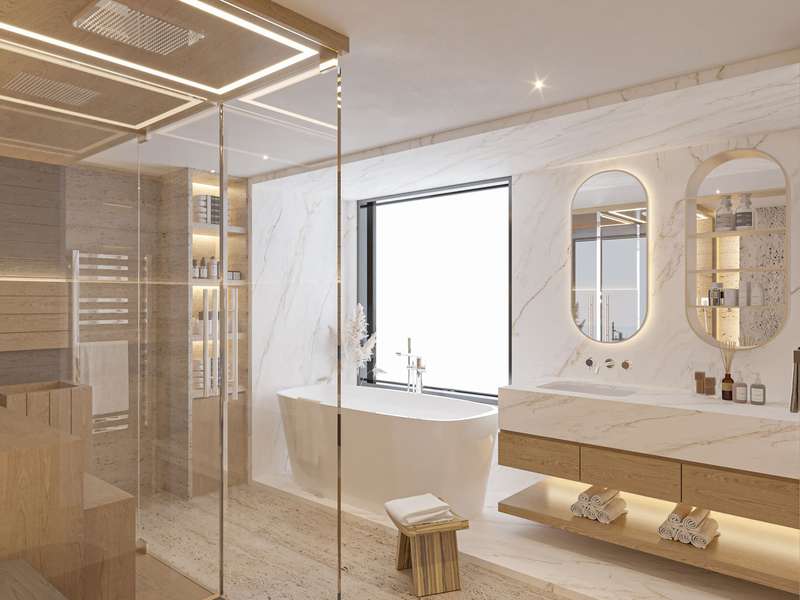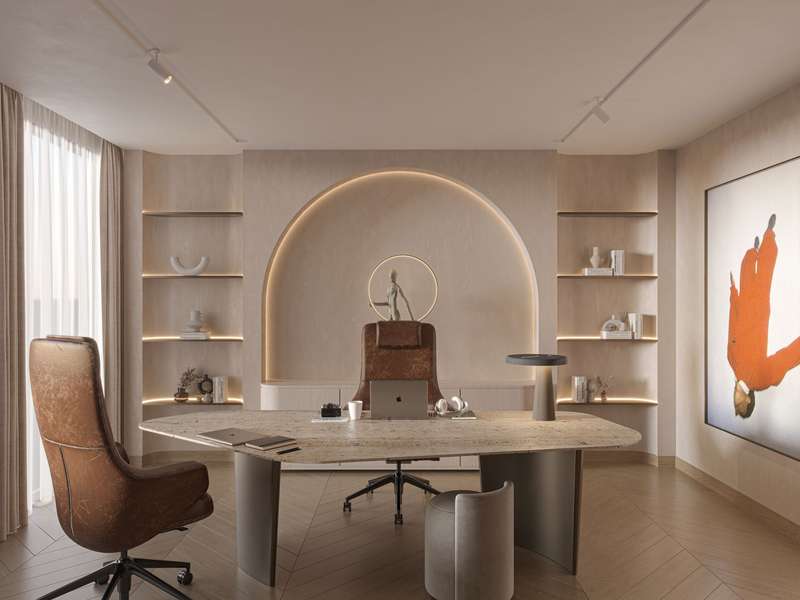 The Jumeirah Residential Villa features a modern and minimalist design with a neutral color palette and earthy tones that add warmth and sophistication to the space. The use of earthy colors, such as warm beige and taupe, creates a cozy and inviting atmosphere, while the neutral palette ensures that the space remains timeless and elegant in this villa interior design in Dubai.
The minimalist approach to the design creates a clean and uncluttered environment, allowing the beautiful materials, such as marble, travertine, and wood, to take center stage. The bespoke console table, for instance, is a work of art in itself and is enhanced by the simple and unadorned surroundings of a villa interior design in Dubai.
The villa's clean lines and uncluttered spaces give it a sense of calm and tranquility, making it the perfect escape from the hustle and bustle of the city. The use of modern design elements, such as the floor-to-ceiling windows and the chandelier on the stairwell, adds a touch of glamor and sophistication to the space.
It features stunning works of art on the walls, adding an extra layer of beauty and sophistication to the space. The art pieces are carefully curated and complement the villa's neutral color palette and earthy tones, adding pops of color and visual interest to the walls.
The villa interior design in Dubai also boasts a hand-tufted carpet that adds texture and warmth to the living space. The carpet's subtle design perfectly complements the villa's minimalist aesthetic, creating a harmonious and inviting environment.
Poliform is known for its sleek and stylish furniture designs that perfectly balance form and function. The villa features carefully selected Poliform pieces that are both elegant and practical, providing comfort and style in equal measure.
The combination of these design elements creates a cohesive and beautifully curated living space that is both comfortable and visually stunning – a true masterpiece of villa interior design in Dubai – modern design.
Overall, the Jumeirah Residential Villa is a testament to the beauty and elegance of minimalist design, showcasing how a neutral color palette, earthy tones, can create a luxurious and inviting living environment.