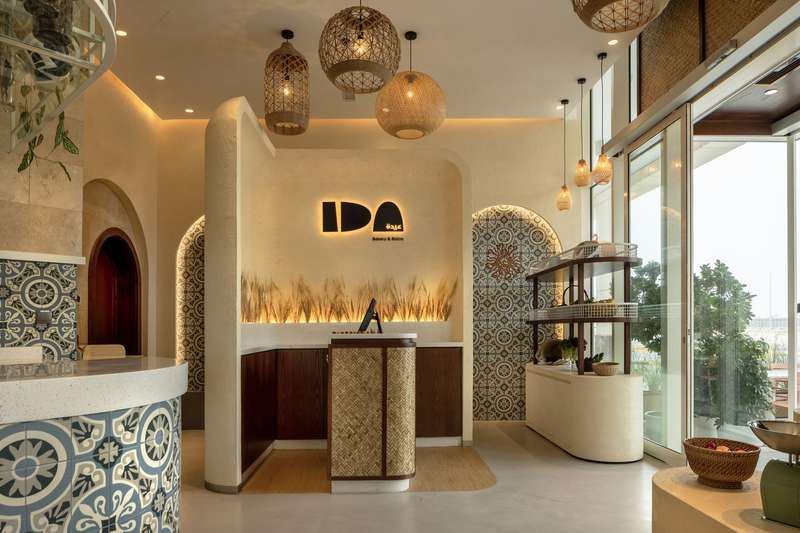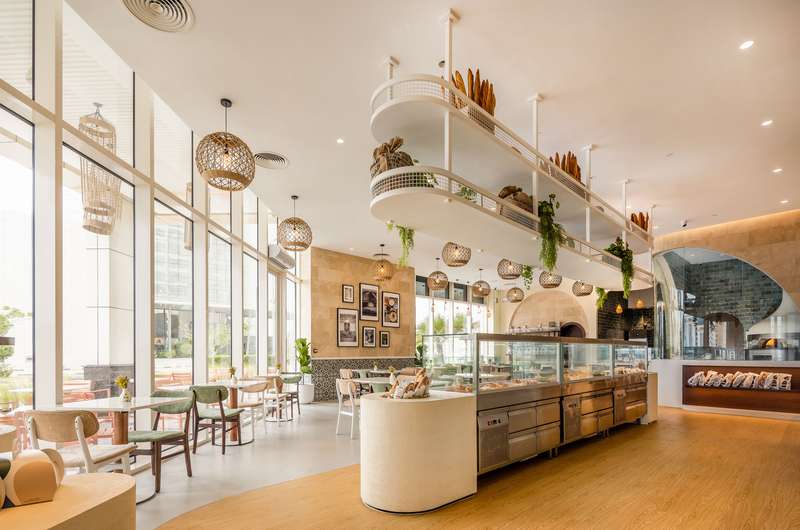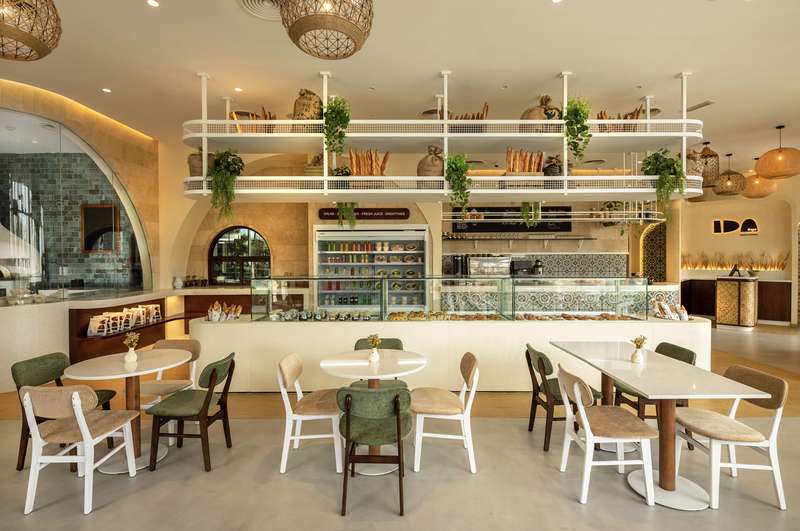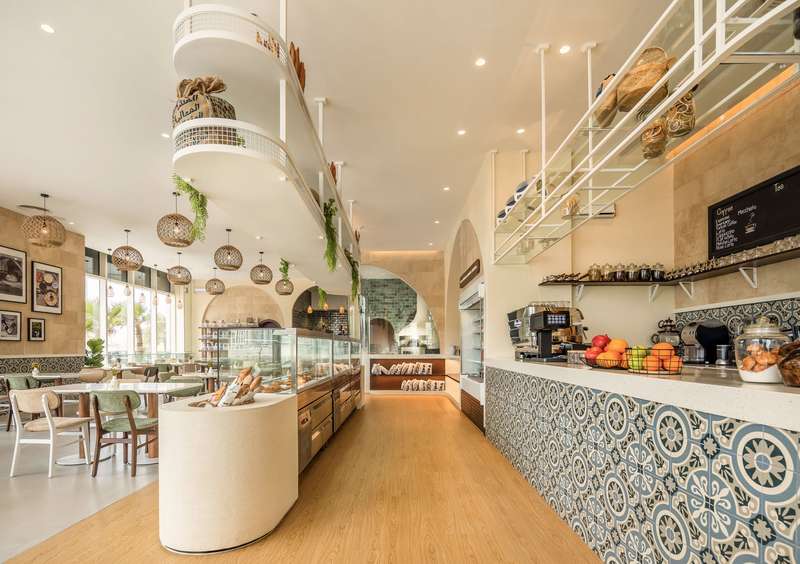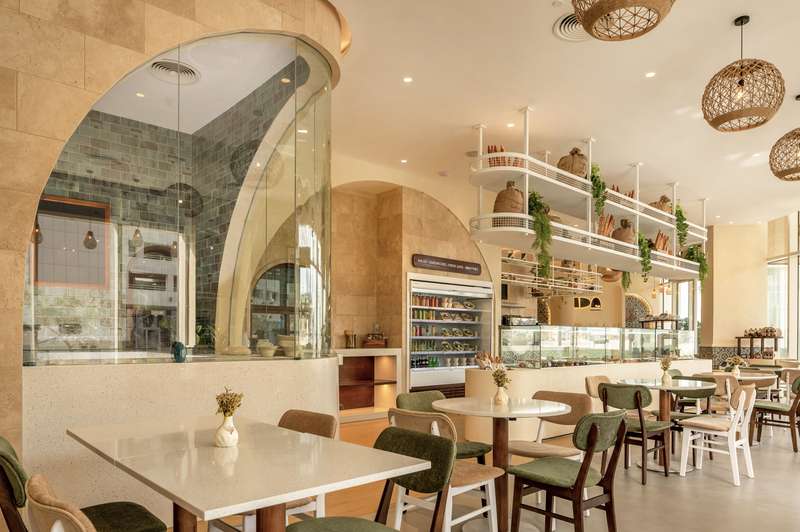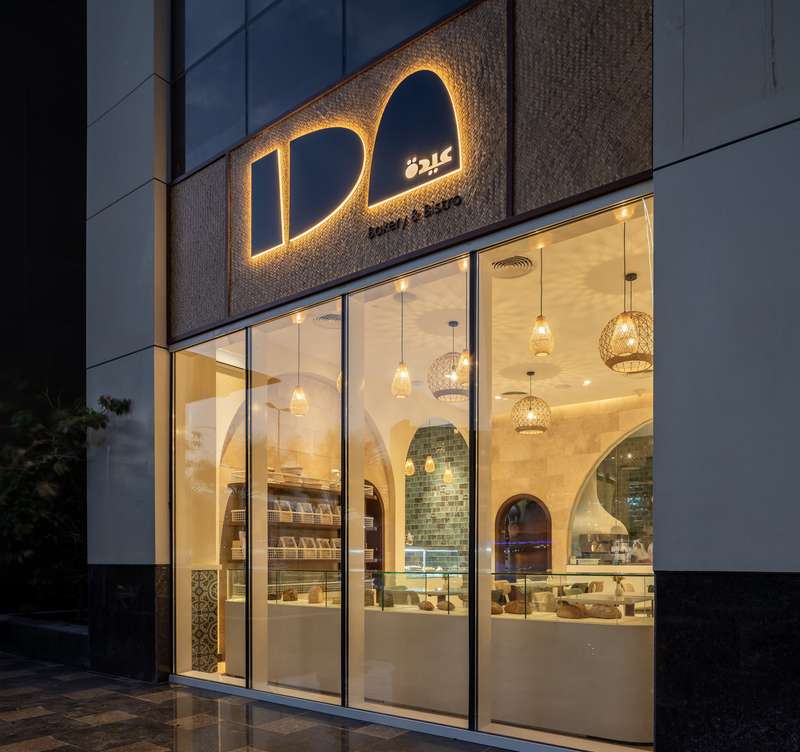 In the heart of Fujairah, a coastal city in the United Arab Emirates, IDA is a bakery that embraces traditional methods to create artisanal sourdough bread using organic ingredients. The bakery's goal is to provide a clean eating experience to its health-conscious community with a unique bakery interior design.
To showcase the delicate process of slow-fermented bread making, IDA enlisted the expertise of 4SPACE, a leading restaurant design company, to design a modern, homely atmosphere that customers would find comfortable and inviting. The spacious unique bakery interior design boasts an L-shaped counter, stylish steel racks, and a beverage counter, giving the space a busy urban feel.
The Portuguese patterned tiles that adorn the walls provide a splash of color and Mediterranean charm to the natural décor. The use of white Terrazzo, natural warm-hued stone, and a blend of concrete and wood flooring give the space a contemporary appeal.
The large gondola-shaped display in the center of the shop features a wicker reception counter surface and outdoor façade. A decorative display of backlit wheat adds a playful touch to the shop signage at the cash counter. Wicker light pendants hanging from the ceiling provide a warm, natural feel and unique bakery interior design.
IDA's open kitchen and preparation area offer customers a visual feast as they watch the bakers at work. Stone archways break up the horizontal lines, creating a less industrial feel.
4SPACE, an excellent restaurant design company, created a calming and soothing ambience with clean lines and minimalist colors, using textured surfaces to balance the overall design. Floor-to-ceiling windows allow natural light to flood the space, creating the illusion of more space. An accent of green in the chair fabric and kitchen wall tiles provides a pop of color visible from the retail space.
Overall, IDA Bakery is a modern, homely space that showcases the bakery's artisanal bread-making techniques and offers customers a cozy environment to enjoy coffee and freshly baked goods.