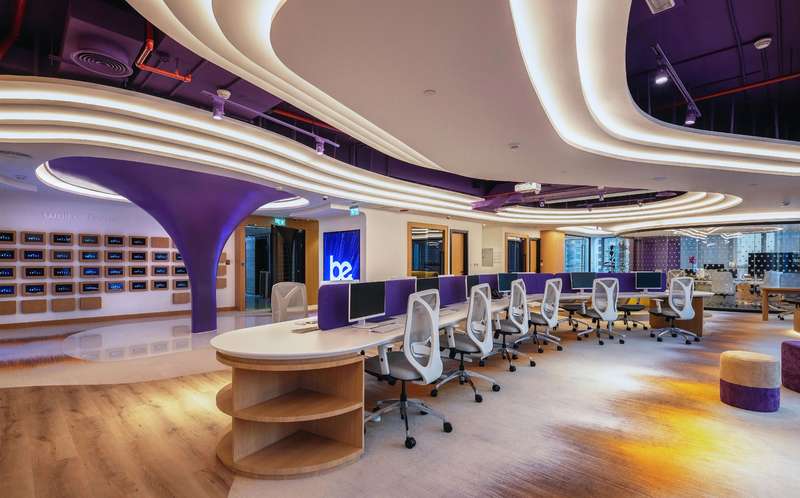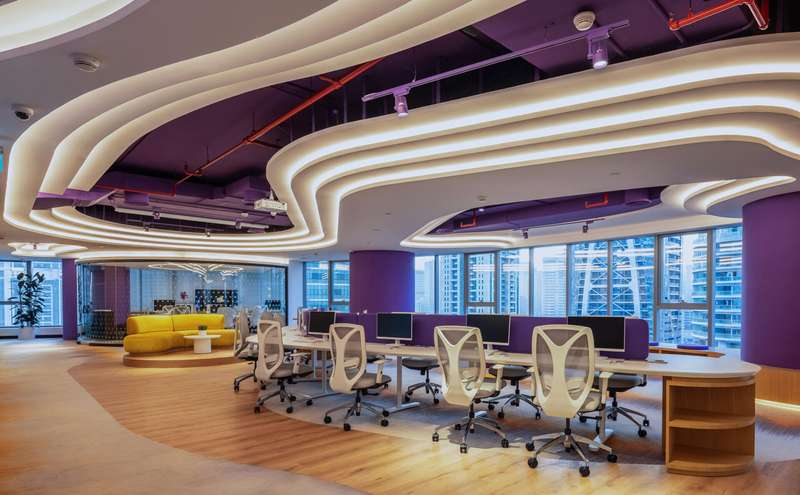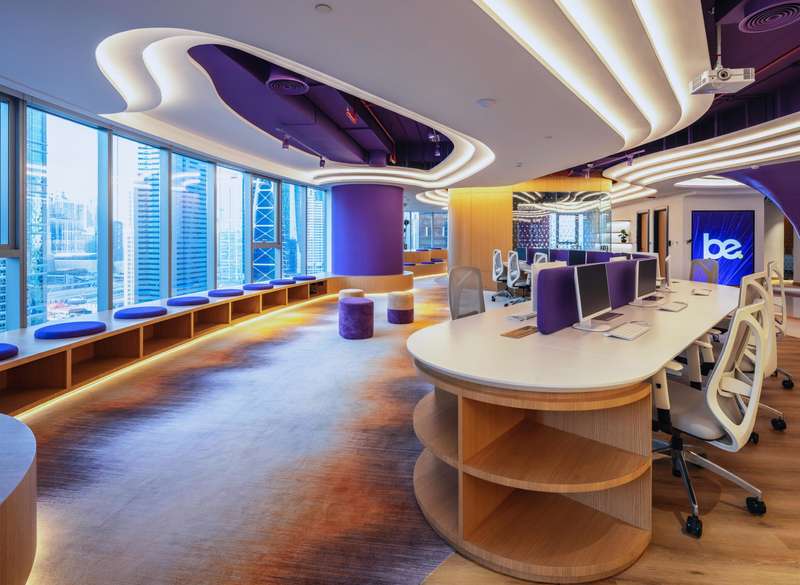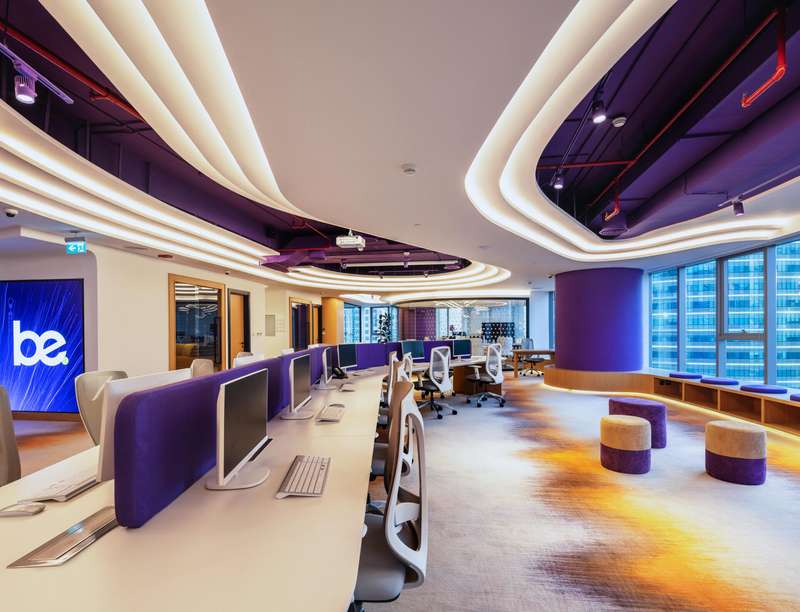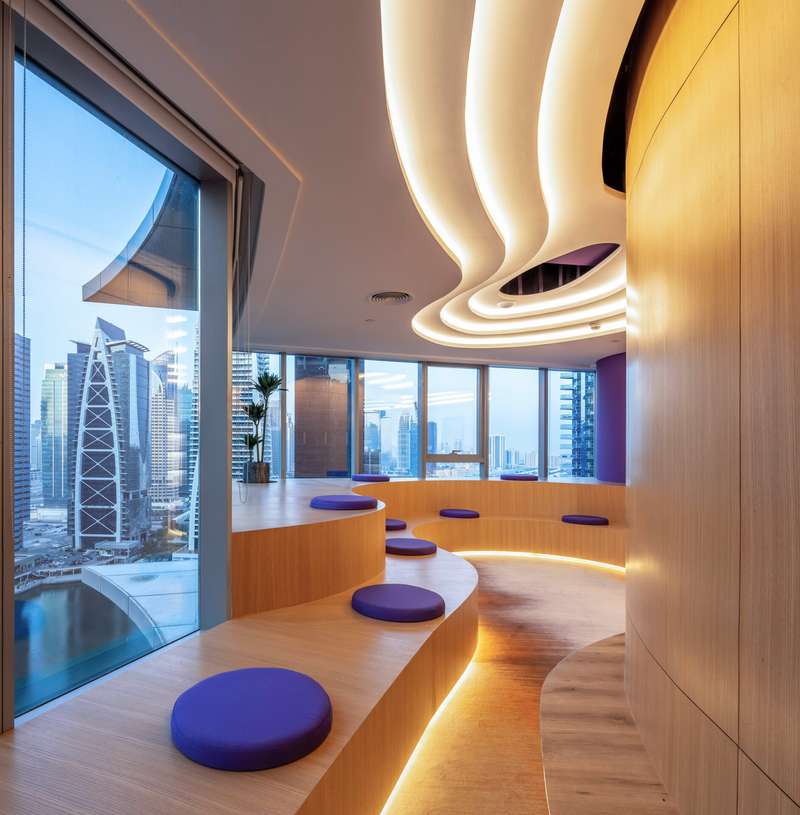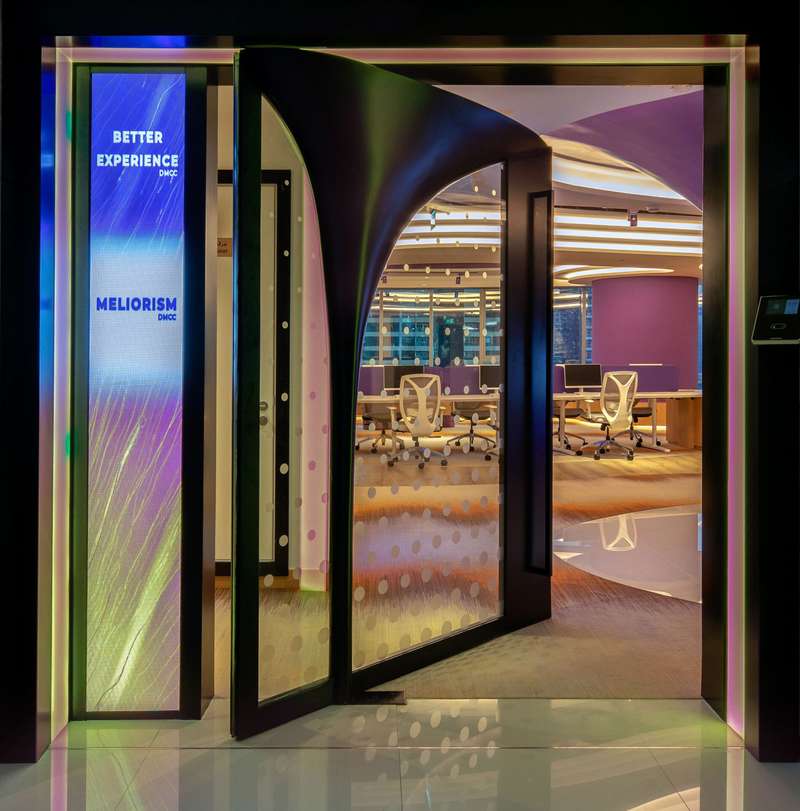 BE Meliorism is a team of creators, innovators, and storytellers that came from all different backgrounds and have a wide variety of interests. As the team expands, the need for a technology driven office is a must.
4SPACE was approached by BE Meliorism to design a shell and core office space with an approximate area of 5,600 sqft located at Platinum Tower, Jumeirah Lakes Towers. With its stunning view of the lake and 180 degrees of natural light, we were able to come up with a unique, instagrammable, and trendy design for this ambitious space.
The overall concept was inspired by the branding guidelines of BE Meliorism and its core value of innovation, people, and insight. As you enter the 2.5-meter wide glass door with LED screens and RGB lights, you will be welcomed with the 3D hologram on a decorative pillar and LED Screens on the foyer.
This serves as the focal point of our design. Along with this is the Wall of Fame with digital photo frames that showcase the different digital platforms of BE Meliorism that evolve in the marketplace. Since they are technology centric organization, it is essential that every room and every space are well equipped with highly advanced technology.
In line with 4SPACE, our design offered varieties of co-working tables, quiet pods, sound-proof phone booths, studio rooms, formal and informal meeting rooms. In the open workspace, we introduced a combination of carpet and LVT – the latest trend in the flooring industry. A setting that gives a smooth soft and hard surface transition and instantly increases the originality of floor and interior design.
Especially for offices like this who's manning round the clock, such a break-convention floor design boosts motivation and creativity. The LVT has been designed to high standards and contains recycled materials, free of ortho-phthalate plasticizers that could contaminate the recycling system. While on the carpet, we introduced "Object" as it totally blends with the overall theme of the office.
This carpet is standard fitted with Welltex Acoustic that contribute substantially to a well-balanced architecture. It consists of recycling PET material and has a special backing that is not only sustainable but also low on emission.
Each area defines, and encourages, a different type of behavior that lives on a spectrum of human interaction. That's why on the pantry, being a communal space, 4SPACE designed to achieve a casual, comfortable and inviting atmosphere with a variety of seating arrangements in vibrant colors to make it dynamic and lively.
To cap it off, the bay window seats were designed as a lounge that offers employees the freedom and flexibility to choose between different workspaces, each designed for a specific activity. Adjustability and variety go a long way toward a trend that includes tech-enabled spaces that let workers plug and play everywhere.
This space also captures the spectacular view of JLT especially during blue hours when the sun has dipped below the horizon. As quoted from the client letter of appreciation "We loved their creativity, dedication, and professionalism… our project was very time sensitive and was required to be designed from scratch in a stringent timeline… 4SPACE was able to execute the task before the agreed deadline. And to our satisfaction."
4SPACE has achieved not just the design brief but exceeded the expected result in a very challenging timeline.