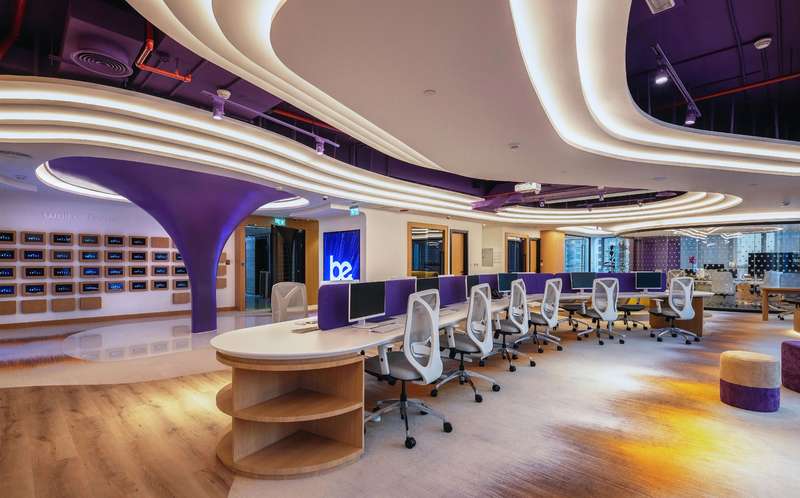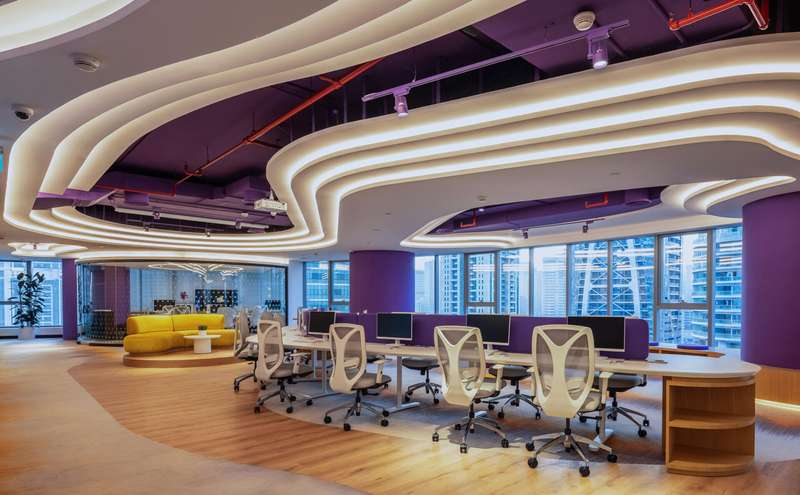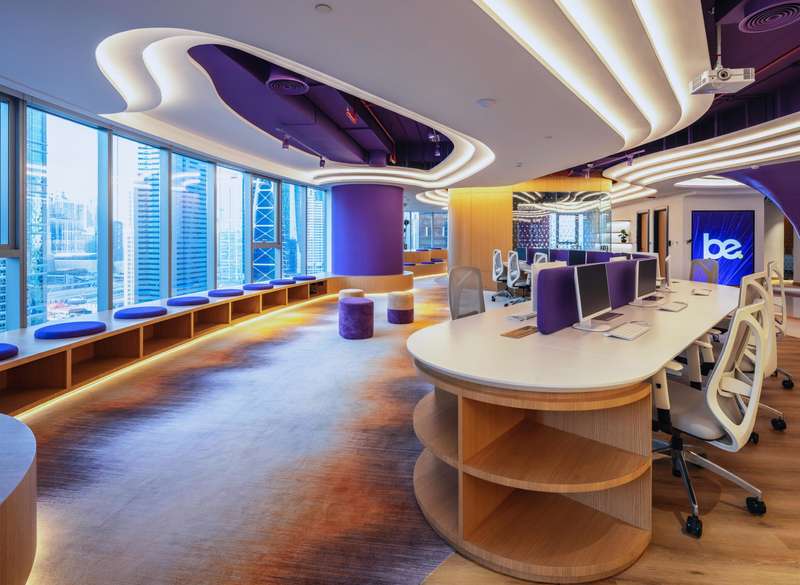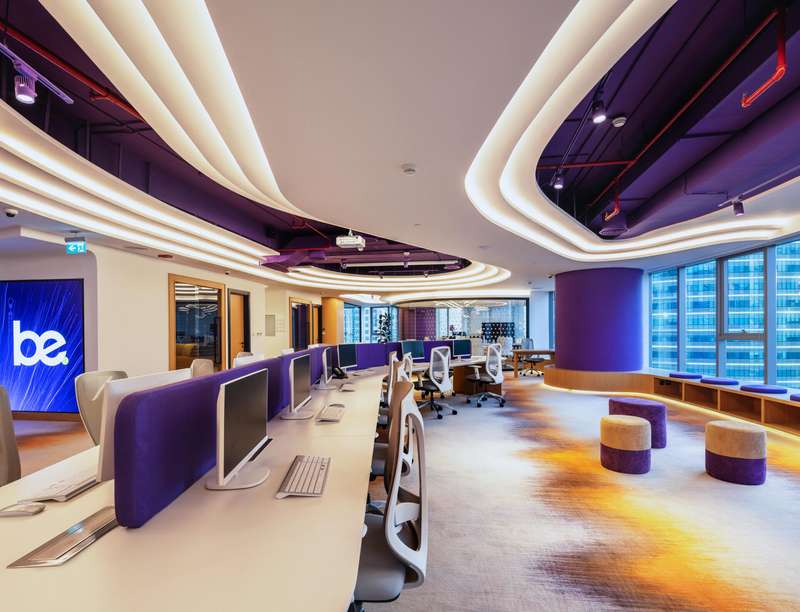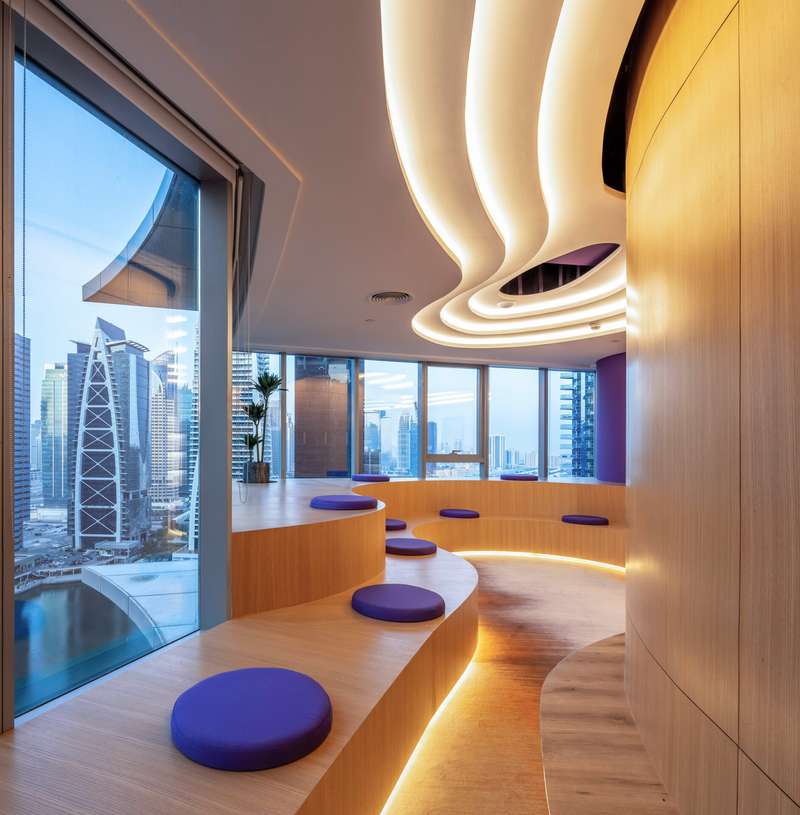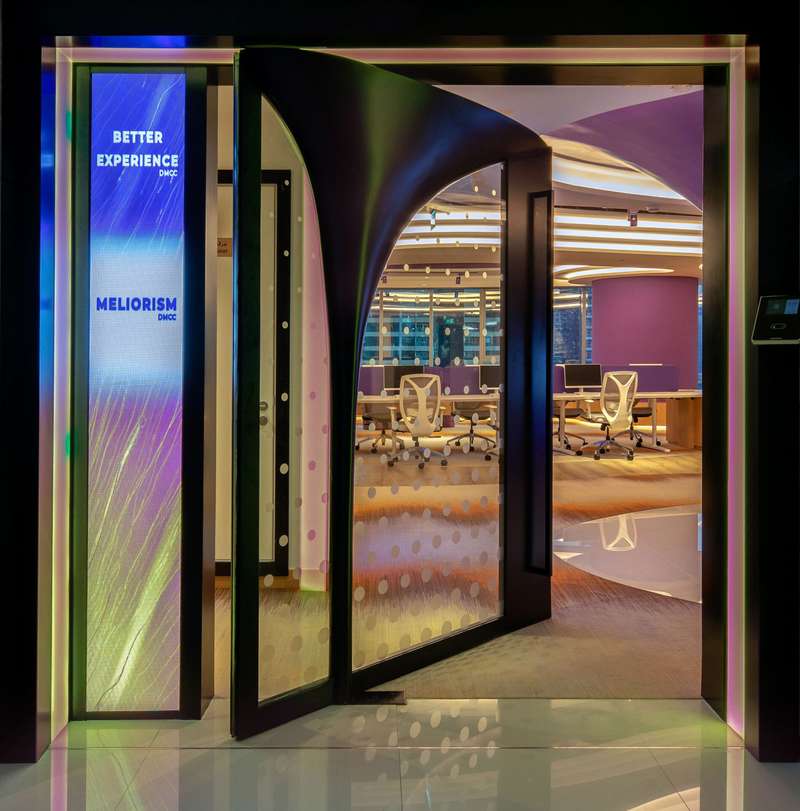 BE is a team of creators, innovators, and storytellers with diverse backgrounds and interests. As the team continues to grow, it became clear that a technology-driven office was a necessity.
That's when they turned to 4SPACE, another of the best interior design companies in Dubai, to design a shell and core office space in Platinum Tower, Jumeirah Lakes Towers. The approximately 5,600 sqft space boasts a stunning view of the lake and 180 degrees of natural light, making it an ideal canvas for a unique and trendy design.
4SPACE drew inspiration from BE's branding guidelines and core values of innovation, people, and insight to create a space that truly represents the company. The design features a 2.5-meter wide glass door with LED screens and RGB lights, along with a 3D hologram and LED screens in the foyer, serving as the focal point of the design.
Every room and space is equipped with advanced technology, which is crucial for a technology-centric organization like BE Meliorism. To accommodate the team's different needs, 4SPACE, being one of the best interior design companies in Dubai, designed a variety of co-working tables, quiet pods, sound-proof phone booths, studio rooms, formal and informal meeting rooms.
The flooring industry's latest trend, a combination of carpet and LVT, was used to create a smooth and soft surface transition that enhances the originality of the floor and interior design. This break-convention floor design helps boost motivation and creativity, which is especially important for offices like this that operate around the clock.
4SPACE selected sustainable and low-emission materials such as recycling PET material for the carpet and LVT that contains recycled materials and is free of ortho-phthalate plasticizers to prevent contamination of the recycling system. The pantry area, a communal space, was designed to have a casual and inviting atmosphere with a variety of seating arrangements in vibrant colors to make it dynamic and lively.
The bay window seats were designed as a lounge that offers employees the freedom and flexibility to choose between different workspaces, each designed for a specific activity. Adjustability and variety go a long way toward a trend that includes tech-enabled spaces that let workers plug and play everywhere.
The design exceeded BE's expectations and was executed within a stringent timeline, showcasing 4SPACE's creativity, dedication, and professionalism. As one of the best interior design companies in Dubai, 4SPACE not only met the design brief but also delivered exceptional results that truly captured the spirit of BE.